ALPINE HEATH RESORT
/
DRAKENSBERG, KWA-ZULU NATAL
Max Capacity for Conferences: 340 pax
Catering facilities: Yes
Accommodation Available: Yes
Nearest Airport: Pietermaritzburg, 250 km
PHOTO GALLERY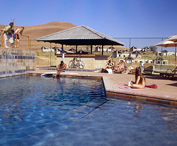 DESCRIPTION & LOCATION
/ ABOUT US
Set in the heart of the majestic Northern Drakensberg, Alpine Heath Resort is widely regarded as one of South Africa's premier resort destinations. Each of the one hundred, three bed roomed suites face north, with breathtaking views of the Drakensberg Mountains. On site facilities include conference venues, children's entertainment, gym, equestrian centre and adventure facilities.
FACILITIES
/ WHAT WE HAVE TO OFFER
Conferene Facilities:
Lammergeyer
Arbousset
Ngwane
Sutherland, Gardiner & Kelly
Grantham B oardroom
Audio Visual equipment available.

CONTACT DETAILS
/ BOOK YOUR CONFERENCE AT OUR VENUE
Tel:

036 438 6484
(please let them know you found them on sa-conference-venues)

Fax:

036 438 6485

Email:

click here